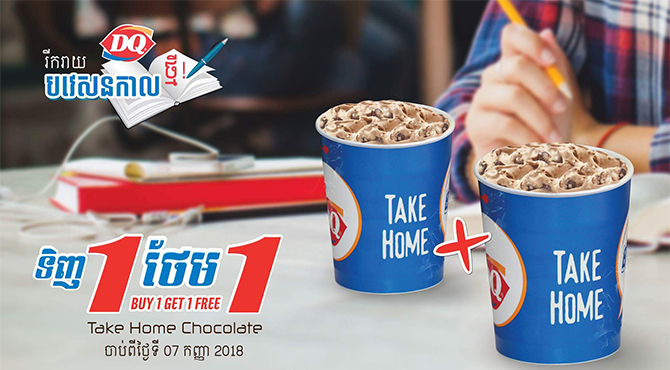 Dairy Queen (DQ), an ice cream shop from the US, had its first Cambodia franchise in 2002. Since then, it has attracted many customers both local and international for its tasty treats and ongoing promotions.
Likewise, during this time, vacation is almost over and students have to resume their class while workers also suffer in the heat. In order to cheer everyone up, DQ offers a big special "Take Home Chocolate" promotion. Every time you buy 1 chocolate truffle blizzard from DQ, you will get 2 in return!!!
Isn't it "cool"? or should we say "cold"? BUT, remember this promotion starts from 07th of September, 2018 until stock ends.
Promotion can be obtained at any DQ branches except the airport branch.
Price (of 1 chocolate truffle): 4.5 dollars
Opening Hours: 9 AM – 10 PM
Contact: 023 880 880