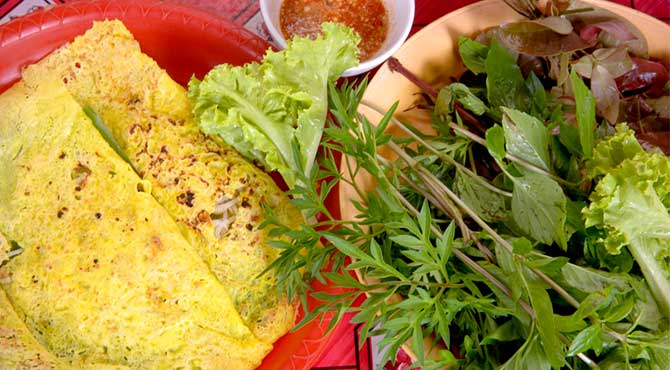 Banh Xeo, a sizzling pancake or Vietnamese street food, is quite popular among Cambodian people so looking for a place to eat Banh Xeo is not quite hard in Phnom Penh city. But finding a right place that fit your taste is quite difficult, isn't it? Here are the 5 popular places in Phnom Penh to take a seat and enjoy your favorite street food, Banh Xeo.
(Disclaimer: this list is not ranked)
#1 Banh Xeo Phsar Toul Tum Poung
Many food carts are arranged at Toul Tom Pong Market area, with many different types of food. Passing through those food carts, you probably can't stop yourself from mouth-watering. Among those savory street food, there is also a Banh Xeo place for you to savor. A plate of Banh Xeo is up to 5,000 riel, along with many other vegetables.
Price: 5000 KHR per Banh Xeo
Open Hour: 5PM
Location: Street 440, Sangkat Toul Tom Poung I, Khan Chamkarmorn, Phnom Penh | Googlemap
#2 Banh Xeo Street 460 (near ACE Toul Tum Poung School)
A savory Banh Xeo stuffed pork chops can be found in Toul Tum Poung area, located at the corner of the street 460. You can either wrap Banh Xeo with fresh vegetable or just simply eat with fresh Asian herbs.
Price: 6000 KHR per Banh Xeo
Open Hour: 4PM
Location: St. 460 corner of St. 163, Sangkat Toul Tom Poung II, Khan Chamkarmorn, Phnom Penh | Googlemap 
#3 Banh Xeo Wat Botum (near Brewhouse Cafe)
A yummy Banh Xeo depends on the stuffing. But a delicious stuffing can't be perfect without the salty, sour, sweet and spicy condiments. If you happen to be around riverside, here would be the nearest place you can have this amazing dish. Meatball and nom krok (Khmer Rice Balls) are also served here. Eating hot pot of Banh Xeo along with cold sugarcane juice is truly worth it.
Price: 6000 KHR per Banh Xeo
Opening Hour: 3pm.
Address: Vimol Thoam Thong St. (246), Sangkat Chaktomok, Khan Daun Penh, Phnom Penh | Googlemap
#4 Banh Xeo Sokha Hotel
Banh Xeo food cart nearby Sokha Hotel Chroy Changvar is quite popular for its savory and affordable Banh Xeo in Phnom Penh. Here is located in a nice place that you can savor Banh Xeo and enjoy the fresh air at the riverside.
Address: Tonle Sap St., Sangkat Chroy Changva, Khan Chroy Changva, Phnom Penh | Googlemap 
Wrap it with vegetable, dip it in condiments and eat it in one mouthful. Yummy!