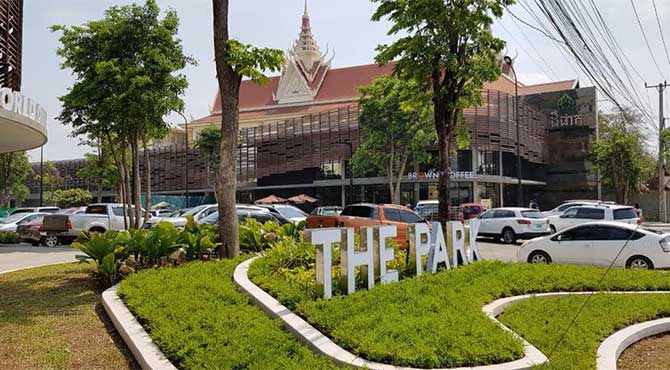 Wanna eat out with family, but stressed out by the city traffic? If you are happened to be in Chbar Ampov area, The Park Community mall will be your one stop destination to dine, relax, or simply satisfy your daily needs for food and beverage. With numerous of shops, a comforting environment and a wide parking spaces, you can relax, enjoy the meal, and wait until the gridlock subsides. Now check out which shops are ready to serve you in the community?
#1 World Dining (Boeung Snor)
World Dining is a restaurant that serves many different cuisines in one place. Get ready to enjoy their popular dishes like Italian pizza , Australian style steak, plus regional favourites including Kuy Teav Phnom Penh , Singaporean chicken rice, and freshly made dim sum!
**Special Promotion is available on Friday, you will get 1 bottle of white or red wine for free when you order a whole duck from World Dining BS.
#2 S&P Thai Restaurant & Bakery
S&P is a Thai Restaurant and Bakery chain from Thailand that serves authentic Thai food, international food, coffee and bakery since 1973. They also offer private party room with all the food and decoration included in the package.
#3 The Sushi Bar
The Sushi Bar is a Japanese restaurant that are known for fresh and high quality sushi in town.
#4 BROWN Coffee and Bakery
BROWN Coffee and Bakery serves gourmet coffee with rich variety of freshly baked French and Asian pastries in iconic spaces designed with a modern Khmer spirit, a lively environment, and friendly customer service since 2009.
Besides these new opening stores, there are also few other stores that are on their way soon to be fully ready to serves you.
#5 Little Sheep Hot Pot
Little Sheep Hot Pot is the first Mongolian hot pot restaurant in Cambodia. There are various soup options for you to choose with freshly meat and vegetable. They just started their first branch in Phnom Penh in 2017, now are almost ready to serve you at their 3rd branch.
#6 Lotteria
Lotteria is a leading Korean fast food restaurant that established in Cambodia since 2014. Currently, they have 5 branches in Phnom Penh, the 6th one opening soon at The Park Community Mall.
#7 TOUS Les JOURS
TOUS Les JOURS is bakery brand from South Korea serving unique selection of bakery goods and beverages made with the highest quality ingredients.
#8 Koondak
Koondak, the Korean Restaurant, reveals the first appearance in Cambodia at The Park Community Mall. They are specialized in Korean fried or baked chicken.
#9 LaLune OJ
Neither a restaurant nor a shop, LaLune OJ is just an orange juice vending machine. A refreshing and easy orange juice!
Location: National Road 1, Sangkat Nirouth, Khan Chbar Ampov, Phnom Penh