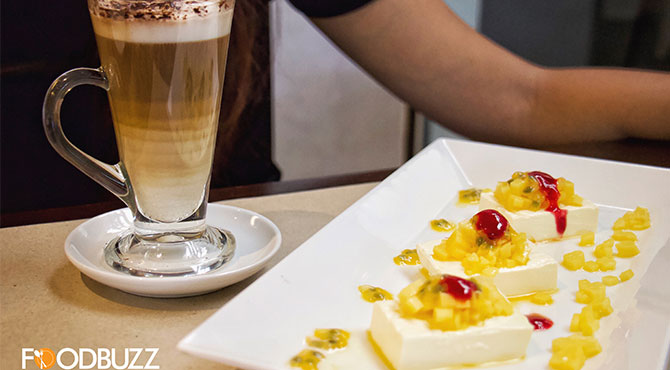 If there's anything to know about this well-loved and long-running Italian restaurant, I think we have pretty much got everything covered in our last article  (which you can read here: Terraza) BUT today, we'll do something different. We are going to introduce the brand new updated menu that comes with an addition of 20 new dishes which we have had the privilege to try out some of those out. Wanna know what we have tried? Read on!
We trust the head chef and asked him to recommend us the finest of the finest dishes and below are the five that we tried:
Carpaccio di branzino con agrumi e finocchio, just as its name is a Carpaccio dish with finely sliced branzino fish paired with orange salad. The sweetness of the orange goes perfectly with the fish and really brings out the freshness of the fresh. It's gonna leave you considering a second plate!
Farro o Quinoa (secondo disponibilità) con frutti di mare goes by the label of a salad dish. However, the use of Quinoa adds a very unusual texture to the plate and coupled with the fresh squid, shrimp and clams, this one tastes like no salad dish you have ever tasted but it surely won't let you down. 
Perhaps some soup?  Crema de piselli is a creamy soup made from pea which explains the green colour. The creamy texture with the pea might leave you a slightly bitter aftertaste in your mouth, but one spoon at a time, you'll be addicted. 
Costoletta di vitello alla Milanese con rucola e pachini is a deep-fried, breaded veal cutlet, Milanese style. Crispy on the outside and extremely tender and juicy on the inside, this dish is definitely not one to miss.
Last but not least is Baccalà alla Ligure con olive e patate. Put some of that mashed potato, olive and Baccalà fish spread on a piece of sliced focaccia (the traditional Italian bread) and take a bite, voila!  Don't you just wish you could have this everyday?
It's never complete without some desserts! First up is Tortino al Cioccolato Fondente. Freshly baked chocolate fondant paired with a scoop of flavorful vanilla ice cream, the gooey texture is going to leave you licking the plate clean! Because any drop of chocolate wasted  is abomination! 
Your usual Panna Cotta, but with passion fruit and mango.  One bite and there's no going back. Every bite is heavenly and this tastes best with a cup of hot Cappuccino, we totally recommend! 
But wait! These are only 5 of the over 20 new dishes, so make sure to drop by and try the new dishes!
Operating hours:
Starting price: $6 and above 
Location: #1C, Street 282, Sangkat Boeung Keng Kang 1, Khan Chamkarmon, Phnom Penh (behind The Place Gym) | Googlemap