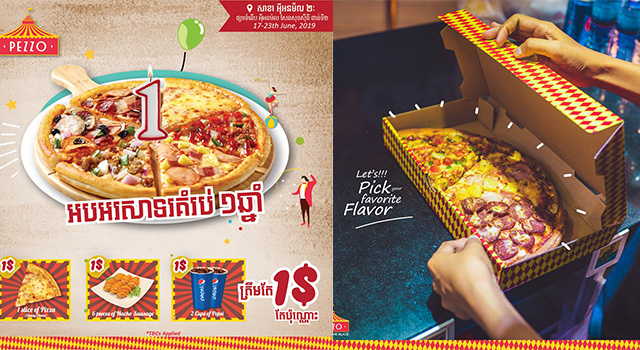 [:en]Can you believe it? It seems like yesterday that Pezzo Pizza opened its first root in Cambodia, then the second branch, and right now they are already celebrating their one-year anniversary!
Before we describe this wonderful event, let us brief a slight introduction to Pezzo Pizza Cambodia. Pezzo Pizza Cambodia is the first (and probably the only one) that sells slice pizzas. Instead of ordering a one-round pizza, customers can order them in as many slices as you want at Pezzo.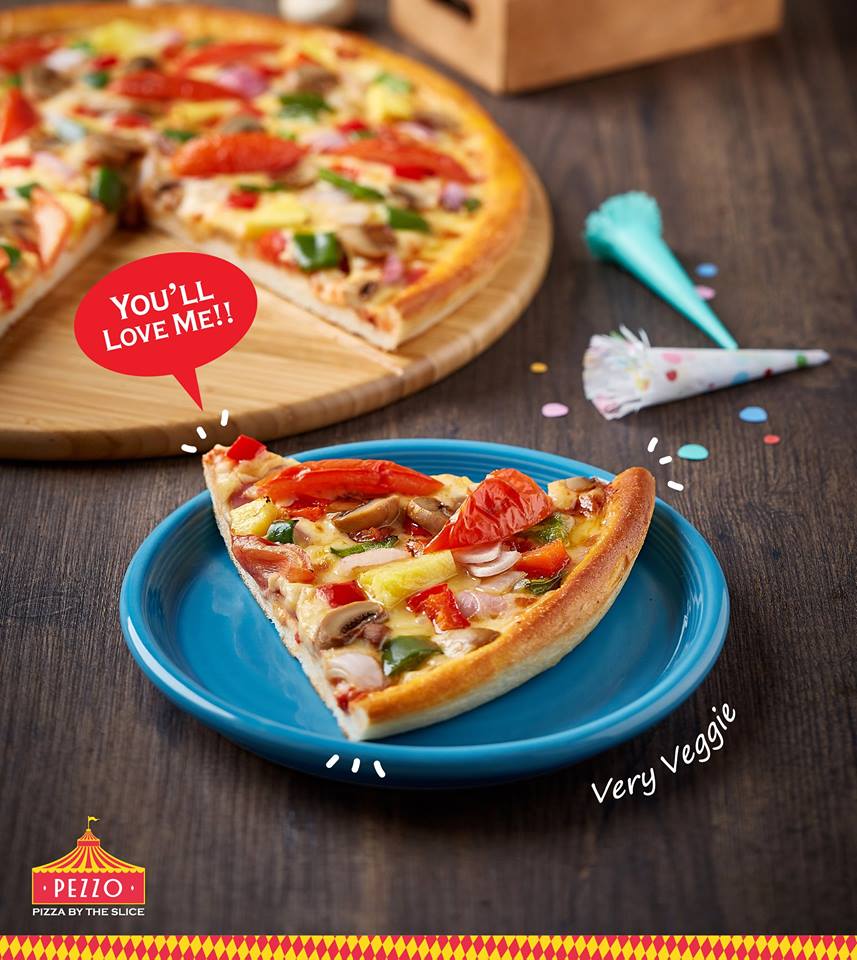 This pizza place has gained quite a popularity that led to the opening of the second branch thanks to their unique serving style, and seasonal flavors attracting more and more fans.
Now back to their 1 year anniversary celebration! To commemorate such special occasion, Pezzo Pizza Cambodia is giving out 1-dollar purchase on their promotional items including Cheesy Cheese, Nacho Sausages (6pcs) or 2 cups of Pepsi. Yep that's right. Only 1$ and you can enjoy their awesome tasty treats!
However, take note that the promotion is valid at 2 outlets at different periods:
Pezzo Pizza Aeon Mall: 17th to 23th June
Pezzo Pizza Toul Kok: 24th to 28th June
Don't forget to come by making 1-year memory and enjoy 1-dollar deals!
Opening Hours: 9AM – 10PM
Contact: 023222115[:kh]សឹងតែមិនគួរឲ្យជឿ វាហាក់ដូចជាកាលពីម្សិលមិញចឹងដែល Pezzo Pizza ទើបបានបើកហាងដំបូងរបស់ខ្លួននៅទីក្រុងភ្នំពេញ បន្ទាប់មកសាខាទី 2 ហើយឥឡូវនេះពួកគេក៏កំពុងប្រារព្ធខួបមួយឆ្នាំរបស់ខ្លួនទៅហើយ!
មុននឹងយើងរៀបរាប់អំពីព្រឹត្តិការណ៍ខួបមួយឆ្នាំនេះ Foodbuzz សុំរំលឹកពីអំពី Pezzo Pizza Cambodia បន្តិច។ Pezzo Pizza Cambodia ជាហាងដំបូងគេបង្អស់ (ហើយប្រហែលជាមានតែមួយគត់) ដែលលក់ភីហ្សាជាចំណិតៗ។ ជំនួសឱ្យការបញ្ជាទិញភីហ្សាមួយទាំងមូល អតិថិជនអាចទិញភីហ្សាតាមចំនួន slide ឬ ចំណិតដែលពួកគេចង់បាននៅ Pezzo។
កន្លែងភីហ្សានេះបានទទួលនូវប្រជាប្រិយភាពយ៉ាងខ្លាំងដែលនាំទៅដល់ការបើកសាខាទី 2។ នេះក៏ដោយសារតែconceptប្លែក រួមជាមួយរសជាតិភីហ្សាតាមរដូវកាលរបស់ពួកគេ ទាក់ទាញអ្នកគាំទ្រកាន់តែច្រើន។
អញ្ចឹងត្រឡប់ទៅខួបមួយឆ្នាំរបស់ហាងវិញ! ដើម្បីអបអរសាទរឱកាសពិសេសបែបនេះ Pezzo Pizza Cambodia នឹងផ្តល់ជូននូវប្រម៉ូសិន 1ដុល្លារទទួលបានចំណីក្នុងហាងរួមមាន ភីហ្សា Cheesy Cheese, សាច់ក្រក Nacho (6ដុំ) ឬ ទឹកក្រូចPepsi 2 កែវ។ អត់កុហកទេណា មានតែ 1ដុល្លារប៉ុណ្ណោះក៏អាចរីករាយជាមួយនឹងអាហារពិសេសៗរបស់ពួកគេបានដែរ!
យ៉ាងណាមិញ ការផ្តល់ជូននេះមាននៅទាំង 2 សាខាប៉ុន្តែសុពលភាពខុសគ្នា:
Pezzo Pizza អ៊ីអនម៉លៈ ពីថ្ងៃទី17 ដល់ 23 មិថុនា
Pezzo Pizza ទួលគោក: ពីថ្ងៃទី 24 ដល់ថ្ងៃទី 28 ខែមិថុនា
កុំភ្លេចចូលមករំលឹកខួប 1 ឆ្នាំរបស់ហាងនិងរីករាយជាមួយនឹងប្រម៉ូសិន 1 ដុល្លាររបស់ហាងផង!
បើកម៉ោង: 9 ព្រឹក – 10 យប់
ទំនាក់ទំនង: 023 222 115[:]