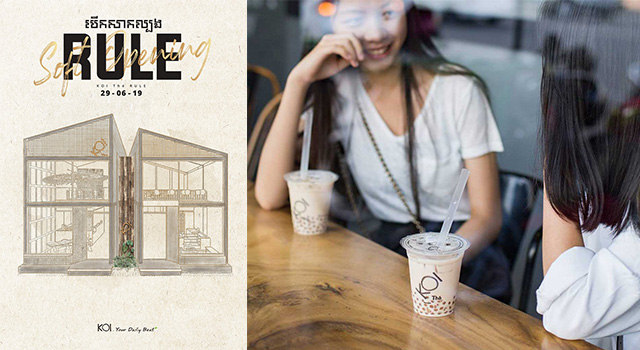 [:en]The well-loved bubble tea in Cambodia that you would not want to miss out is KOI Thé. In these past few years, KOI Thé walks surpass almost every bubble tea brand in town and is branching out throughout the county.
KOI Thé is loved by all ages, especially the youth would grab a cup of milk tea just to relax and reboot their brain in the hot day making it a popular spot for friend gathering for work/study or wind down. To offer favoured spot to Cambodian people, KOI Thé has always provided the high-quality products and attentive service as well as convenient location.
Do you happen to know where the new branch is? You wouldn't doubt if you are a RULE-ers, because KOI Thé just unveiled the KOI Thé RULE (Royal University of Law and Economic) several days ago. This will be a great attraction from students and KOI fan around Boeung Trobek area. Greater news, KOI Thé offers many promotions to all fans:
Free upsize for all KOI drinks purchase on that day which means if you buy small size, you will get a medium one and if you buy medium, you'll get a large size one.
20% Discount for membership card purchasing.
This event will be on 07 July of 2019. So don't miss out this good promotion!
Location:  Preah Monivong Bvld, in front of RULE ( Royal University of Law and Economic) | Googlemap [:kh]ហាងតែគុជដែលត្រូវបានស្រឡាញ់គាំទ្រយ៉ាងច្រើនក្នុងកម្ពុជា គ្មានអ្វីក្រៅពី KOI Thé ដែលទៅណាមកណាតែងតែលឺនោះឡើយ។ ក្នុងពេលមិនប៉ុន្មានឆ្នាំនេះ KOI Thé បានដើរឈានមុខគេជាហាងតែគុជដ៏ល្បីនៅក្នុងភ្នំពេញ ហើយក៏កំពុងបន្ដបើកសាខាជាច្រើនក្នុងប្រទេសកម្ពុជា។
ហ្វេន KOI Thé គឺគ្រប់វ័យតែម្ដង មិនថាក្មេង ឬចាស់ តែងតែឈៀងចូលសម្រាក និងពិសាតែគុជផ្អែមឆ្ងាញ់ដើម្បីឲ្យត្រជាក់ស្រលះខួរក្បាល។ ដើម្បីកាន់តែផ្ដល់ភាពងាយស្រួលដល់ហ្វេនៗ KOI Thé បានបើកសាខាទៅតាមតំបន់ជារឿយៗ និងតែងតែផ្ដល់នូវភេសជ្ជៈឆ្ងាញ់ និងសេវាកម្មដ៏ល្អមិនឲ្យអតិថិជនខកចិត្តនោះឡើយ។
ហ្វេន KOI Thé ដឹងទេ សាខាថ្មីនៅឯណា? ប្រសិនបើអ្នកជាសិស្សនិស្សិតនៅ RULE (សាកលវិទ្យាល័យភូមិន្ទនីតិសាស្ដ្រ និងវិទ្យាសាស្រ្ដសេដ្ឋកិច្ច) ស្គាល់ និងឃើញច្បាស់តែម្ដង ដោយសារសាខាថ្មីនេះ នៅចំមុខសាកលវិទ្យល័យនេះតែម្ដង។ ម្ដងនេះទាំងសិស្សសាលា និងប្រិយមិត្តនៅម្ដុំបឹងត្របែកនេះដឹងតែលែងទៅឆ្ងាញដើម្បីពិសា KOI Thé ទៀតហើយ។ លើសពីនេះក្នុងកម្មវិធីបើកដំណើរការសាខាថ្មីនេះ KOI Thé នាំមកជូននៅកម្មវិធីពិសេសជាច្រើនដូចជា៖
កម្មវិធីតំឡើងទំហំដោយឥតគិតថ្លៃ គឺបើជាវកែវតូចនឹងទទួលបានកែវកណ្តាល ហើយបើជាវកែវកណ្តាលទទួលបានកែវធំ។
កម្មវិធីបញ្ចុះតម្លៃរហូតដល់ 20% ចំពោះការជាវកាតសមាជិក។
កម្មវិធីដំណើរការនេះនឹងប្រព្រឹត្តទៅនៅថ្ងៃទី07 ខែកក្កដា ឆ្នាំ 2019 នេះហើយ។ នៅចាំអីទៀត​ កុំភ្លេចទៅទាំងអស់គ្នាណា៎!
ទីតាំង៖​: មហាវិថីព្រះមុនីវង្ស ទល់មុខសកលវិទ្យាល័យភូមិន្ទនីតិសាស្រ្ត និងវិទ្យាសាស្រ្តសេដ្ឋកិច្ច​(​RULE) | Googlemap [:]