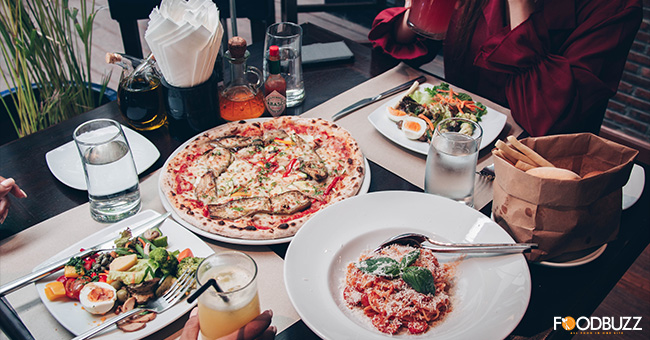 Up and running for more than five years, Terrazza still stands atop among the classiest and most famous Italian restaurants. Knowing for its authentic Italian cuisine and high-quality products, Terrazza is the best place for having a nice Italian meal with your loved one, family, colleagues and friends.
Occasionally, top executives and chefs at Terrazza have always come up with new concepts, promotional sets, and additional menu to satisfy their diners. As expected, Terrazza has just launched their full-course lunch providing everyone a fancy Italian dining experience at an affordable price.
Starting off with Terrazza's salad bar as a starter, where you will get to have a free flow of healthy light salad including green vegetables and finest ingredients (eggs, olives, capers, top-quality mushrooms) giving them more exceptional taste than salad starters at other places. A source of more protein, carbohydrate and less fat!
Although it's a free flow salad, make sure to save some appetite for the main course.
With the order of this set, you can pick a main course either from ONE of the 3 spaghetti flavors or ONE of the 3 pizza types. Three spaghetti choices – Spaghetti alla Carbonara, Spaghetti al Pomodoro and Spaghetti Aglio e Peperoncino – so choose one and enjoy to your heart's content.
Or perhaps you would like to indulge in pizza which is also come with three choices like Margherita Pizza, Napoli Pizza or Vegetariana Pizza. Since both the spaghetti and the pizza taste exquisitely well, we recommend Foodbuzz-ers to come in as partners or group so you can enjoy them both.
The full-course meal is not finished unless there's a dessert. Either Small Tiramisu, or Scoop of Ice Cream or Small Fruit Salad, Terrazza will make sure to satisfy your palate.
Salad buffet, delicious main courses, refreshing desserts can only be found at Terrazza Italian Restaurant.
Price: $9.00+ (full-course meal)
Opening Hours: 11:30AM – 2:30PM & 5:30 – 10:30PM
Location: #1c, St. 282, BKK1, Phnom Penh (Near to The Place Gym & Wat Langka) | GoogleMap