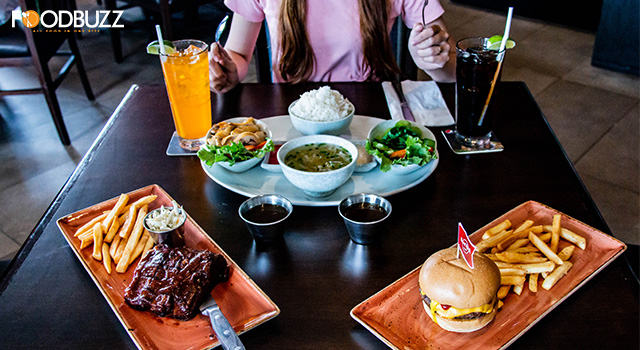 Recognized worldwide for good hospitality and high-quality food, it is time to rejoice with seasonal lunch set at Hard Rock Café. Unlike any other time where you would expect Hard Rock Cafe to serve only Western food, this lunch set begs to differ.
Hard Rock Cafe offers authentic cuisines from all over the world to "bring to the table":
Let's get started with their "Hickory-smoked Ribs". The pork ribs are deeply marinated in special hickory BBQ sauce for two hours in advance to the grilling process for another two. The slow burn/grill carries out the juiciness and tenderness of the meat making them neither soggy nor dry. Infused with enough sauce, the ribs can be eaten alone or with crunchy delicious fries.
Next, let us move to Asian cuisine and taste the "Hainanese Chicken Rice". With adopted recipe and cooking time of Hainan, this set will bring out the true flavor Hainanese rice served with soft tender chicken, salad, healthy tofu broth and three-flavor condiments.
Tip: Don't forget to soak the meat with homemade Hainanese sauce for a more delightful zest!
Well-known for its delectable burger, going to Hard Rock Cafe you hardly miss its specialty which is Cheeseburger and French fries. Ever wanting to try their burgers but thinking they are too big for your small stomach? This burger – French fries set offers an appropriate proportion for one in a more affordable way.
In addition, any purchase of their executive lunch (8 in total) will added with another free choice of 1 soft drink.
Therefore, spend wisely and eat fully at Hard Rock Cafe today!
Price: $9.90+
Opening Hours: 11AM – 1AM
For Reservation: 081 641 111
Location: Exchange Square, Street 106 Corner Street 51, Sangkat Wat Phnom | Googlemap