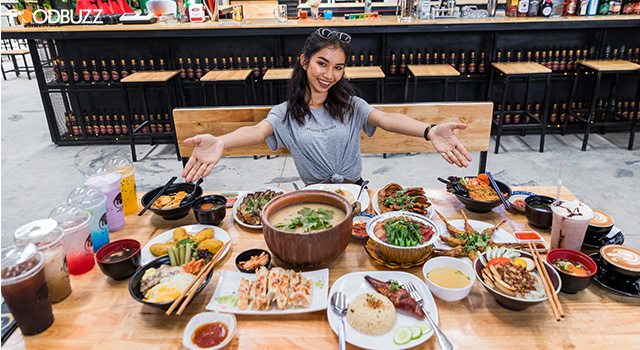 Nestled around Aeon Sen Sok area, Joch 1 is the first food court where you can sit down in a large space and dine in with a wide assortment of foods. Whether it is Chinese or Japanese, the food is served authentically by the chef from that region.
#Roast Duck Phnom Penh
Don't like being served in a fine-dining, just want a simple life like having a plate of roasted duck with rice and chit chatting with your co-workers is making us feel content. Roast Duck Phnom Penh offers a great deal of roasted meat with rice for every meal.
#Kilin
Served by local Chinese people, no wonder the food is so authentically good. Kilin might not consist many foods on the menu, but you can try fried dumpling or pork with rice or cool noodle.
#Ptes Nek Battambang (Battambong's House)
Residing in various parts of Phnom Penh, Ptes Nek Battambong launches a new store at Joch 1 where the Khmer cuisine is served.
#Sunlife Coffee
Having a meal without a drink would be nice to your body. Sunlife Coffee offers not only the coffee, but also fresh drinks and soft drinks.
#Taste of Japan
It's not easy to decide what you are going to have at Taste of Japan. A wide range of food is being offered making us never fall into a trap of eating the same food every day.
#台品潮味砂锅粥 宵夜
Might be too hard to read because everything is in Chinese. Yet, serving food by these old coupling is amazingly good. Either porridge or Chinese cuisine, it won't disappoint you.
#88 Bar
Having a simple night out with your friends? Enjoying the food is not enough for a night out with besties, let's grab a drink at 88 Bar. From beer to cocktail, just relax and sip your drink.
Noted: Before ordering your food, please go to cashier to exchange money for card. Without card, you can't pay for the food. Top up from $10, if there's money left in the card, you can change back for cash.
This is not all, there will be more stores coming to Joch 1.
Open hours: 7AM – 11:PM
Location: Street Oknha Mong Rithy (1928), Phum Bayab, Khan Sen Sok, Phnom Penh (Near Aeon Sen Sok) | Googlemap