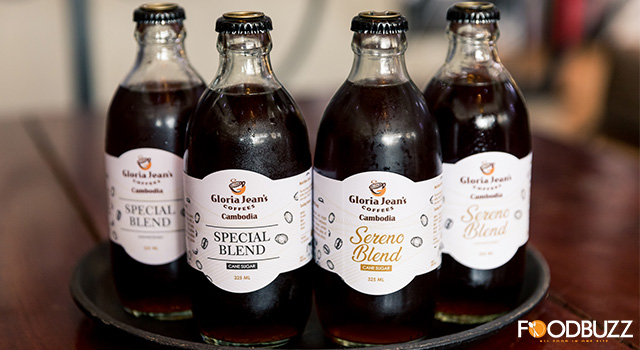 Gloria Jean's Coffees is one of the world's biggest coffee chains and well-loved for its high-quality products in Cambodia as well as in more than 40 countries!
Are you in a rush?  Don't have time for queues? At Gloria Jean's Coffees we value Time and Quality, so we have created a handcrafted bottled cold brew coffee. No need to wait, just order and take with you the cold brew which will give you a lifting energy from a single smooth sip!
The Cold Brew blends are not your regular iced coffee, the process of making the cold brew is simple yet detailed. Our brew is made in a high-grade stainless-steel tank that helps preserve the essence of Gloria Jean's Coffees. The placement of brewing ingredients goes as follows, our high-quality coffee, water and ice to keep essence intact as much as possible. We then leave the ingredients for 24 hours in the tank to let them infuse together which makes the Cold Brew a reality. Also, before we pour the finished brew into the high grade bottle, we heat the bottles at 95°. This process is done to eliminate any bacteria and to serve you the highest freshest quality brew possible.
We offer two types of blends "Sereno Blend" and "Special Blend".
"Sereno Blend" Provides a sensation of elegance and brightness to your palate, A flavor of Cocoa and fresh citrus  in the  brew. The taste offers a smooth and energetic experience!
"Special Blend" Creates a feeling of boldness and richness. This blend focuses on the essence of coffee itself, a strong bittersweet taste to make your palate dance!
These Blends come in two forms. Either with our own signature cane sugar added to the mix, or an unsweetened version is also offered for you to experience.
At Gloria Jean's Coffees we care about the natural environment, and always take steps to ensure that our way of life, benefits the environment and the people in it! The Cold Brew Coffee is Eco-friendly, as the high-grade bottle is reusable and recyclable!
Own a Bottled Cold Brew Coffee for only $2.50
Located throughout Cambodia!