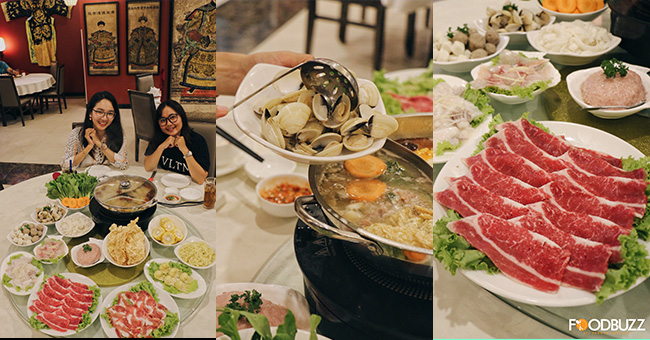 Despite the hot and humid weather in Cambodia, the one thing that we can all agree on without exception is how lovely it feels to gather around a hot pot with our loved ones whilst dipping slices of meat and assorted raw ingredients into a pot of steaming hot broth.
Phnom Penh alone has an abundance of hot pot restaurants that requires to wait in a long queue. With that, the real question is that are the queue worth your time? In fact, Emperors of China does not require you to wait and is known as a Chinese fine dining serving assortment of dishes including Peking duck, dim sum, seafood and many more.
Emperors of China makes a perfect gathering in warm rainy day by offering All-You-Can-Eat hot pot for $18.90 per person only (standard hot pot set) and $22.90 per person (Premium hot pot set).
Either normal set or premium set, there are 3 choices of broth – Sichuan, rib bone and chicken – diners can choose half portions of two broths along with assorted raw meats and vegetable, meatball and tofu skin. A few bucks more, diners will get the premium set that includes many more raw meats such as goat meat, shrimp dumpling and more. You can always ask for more meat and vegetable, it is not charged extra.
This is not all! Just a boiling pot of broth and assorted ingredients how could it called buffet? Walking around and finding the food station, it is where you can get food as much as you please. Steamed bun, fried rice, and fried noodle is arranged neatly on the counter waiting for you to serve yourselves.
Put your diet aside and enjoy a delectable all-you-can-eat hot pot with your friend or family at Emperors of China once in a while.
Note: The all-you-can-eat hot pot is only served for 2 minimum .
 Price: $18.9 (standard set), $22.9 (premium set)
Location: No.19, Street 163, Sangkat Veal Vong, Khan Makara 7, Phnom Penh | Googlemap ​