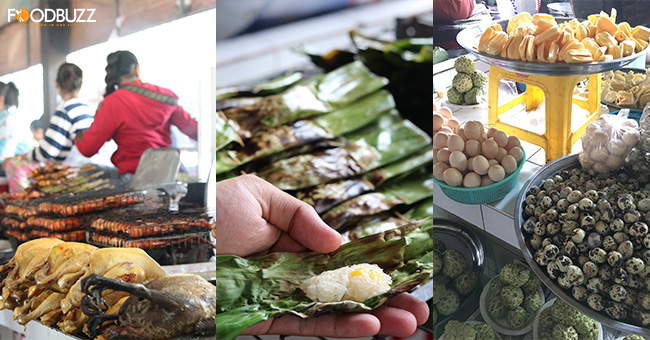 Wonder where all the local people go on holiday or relaxing Sunday, see them at Kean Svay Krav or we all know as Kean Svay. Located about 19km from Phnom Penh, Kean Svay consists a variety of floating houses with a very nice view of lake at the back packed with families enjoyed the assortment of foods. So, what kind of food can you find here at Kean Svay Krav, let's check the list below:
#1 Whole Fried Chicken
One of the popular gathering food, Fried/Grilled chicken is seen almost at every store. It is delicious and goes well with any occasions, especially family fathering like a picnic at Kean Svay.
#2 Grilled Guail & Seafood
Despite being a small bird, Guail is a well-known food in Cambodia. Also, seafood is seen here, even though is quite far from the sea.
#3 Grilled/Fried Fish
Being near the river, fish would be the best choice of food here. Freshly catch and cooked, there are many types of fish you can enjoy here.
#4 Meatball
Want something quick and affordable because you are there just very shortly, then meatball might be your quick choice.
#5 Snails
Snails? Yes, the steamed snails with lemongrass is recognized as one of the best street foods in Cambodia. The amazing aroma of lemongrass putting in as the main ingredient makes in a perfect matching with spicy dipping sauce.
#6 Side Dishes
There are assorted Cambodian side dishes eating with grilled fish or chicken. It will be a long list if we have to list down each side dishes for you, so check the photos down below out.
#7 Boiled Eggs
Boiled egg is a common food everywhere even in Cambodia. Dip the boiled duck eggs or quail eggs in the black pepper salt to get the best flavor out of the eggs.
#8 Dessert
There's always a room for dessert, especially Khmer desserts. From Num Kreab, Orn Sorm Aing, Num Ah Kor, to shaved ice, you can find almost every dessert here.
#9 Fruit
Wanna try out local fruit? Without going far, buy them here if you happened to come here for a relaxing day.
#10 Mju (Sour fruit)
It's not like we can't live without it, it just makes us mouth-watering every time we think of it. Mix your favorite mango with ambarella fruit, Santol Fruit, guava and many more.
Notice: There are a lot more foods here that we can't possibly cover all.
Price: Starting from $1
Location: National Road 1, Corner of small road next to Kean Svay Primary School, Phum Thom, Kean Svay District, Kandal | Googlemap