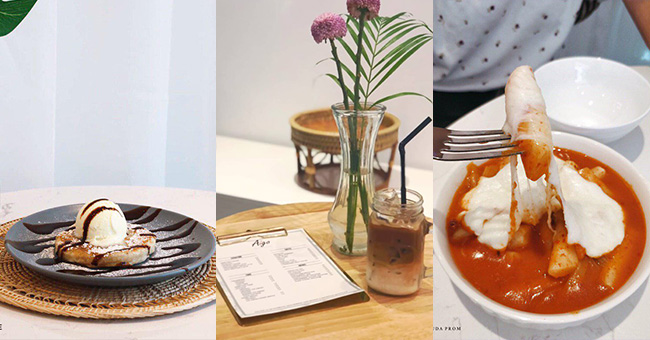 Aigo Korean Café Dessert finally opened its door and ready to serve everyone! Promise you to deliver authentic traditional Korean dessert and snacks. As you guys might be expected, delicious beverages are served as well!
Aiming the minimalistic concept, it instantly makes the whole atmosphere less hectic in the middle of a lively neighborhood (BKK1). Every little corner inside the space is photo-able and importantly there is a projector available, suitable for group study.
You will be warmly greeted with helpful and attentive service and a furry friend (Roti the dog) as well. The store operates by Korean owner and the menu is available in two separate languages, Korean and English. On top of that, the price is reasonable and the proportions are generous.
We recommend their signature drink "Aigo Misugaru Latte." A unique drink where you will get your caffeine and protein boost at the same time. If we have to describe the taste, it has a tint of soy flavor with toasted multigrain. Other options are available from smoothies to coffee.
Gain a deeper insight into popular Korean food that available on their menu such as ''Tteokbokki" which made from small-sized rice cake seasoned with spicy gochujang (chili paste) sauce base. It includes a few variations but our most favorite would be the Cheese Tteokbokki. Tips: Feel free to ask for a combination if preferred.
A perfect pairing to dip the classic Tteokbokki sauce would be the fried fish cake.
Their Korean sweet pancake "Hotteok" is also another dish to keep an eye on. Hotteok is basically a pancake with savory fillings (like brown sugar, honey, cinnamon, etc.). It comes in three different versions original, bananas or ice cream topping.
We humbly hope you would give this place a try in the near future!
Open: 10AM – 7PM (daily)
Price range: 1.5$ – 5$
Location: St. 302 (Between Preah Trasak Paem St. and St. 57), BKK1, Phnom Penh | Googlemap