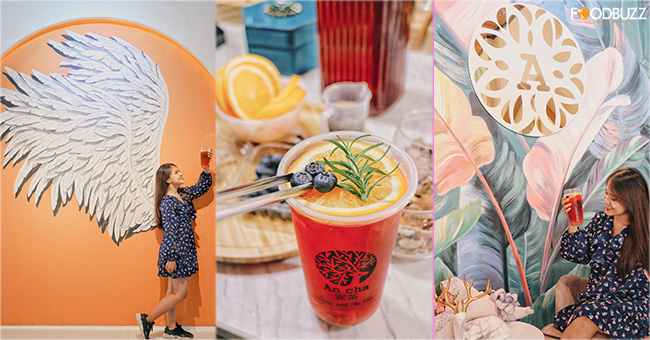 Following the recently launched Siem Reap branch, An cha is now back with another new branch in the capital city of Phnom Penh and this time around, it's located on the iconic Mao Tse Tung Boulevard.
Running on 2 spacious floors, An cha Mao Tse Tung marks the biggest An cha Milk Tea shop so far and the perfect location for friend gathering or group work for your school or work assignment. But that's not all that An cha Mao Tse Tung has to offer!
With its very first "Bird Box" concept in Cambodia, everywhere you turn is an Instagrammable spot that is going to give your IG post that refreshing look and feel that you've been seeking for. Take a look below for some photo inspiration!
FoodBuzz firmly believes that in terms of drinks, you are already aware of the taste and the large variety of drinks An cha offers, but this time around we would like to recommend the brand new Fruit Tea which may look like a regular fruit tea but buckle up! Because looks can be deceiving. Packed with an interesting blend of flavors of freshly brewed tea, the An cha Fruit Tea gets an extra boost of distinct flavors from dried tangerine peel, dried sour plum and basil seeds and garnished with slices of orange and fresh Blueberry.
Another one we tried was the Golden Brown Sugar Milk Tea which we have published a review on it previously and you can read it here
Get your milk tea fix and lit your Instagram posts at An cha Mao Tse Tung today!
Location: Mao Tse Tung Boulevard in front of The Great Duke Hotel (Formerly InterContinental Hotel | Googlemap 
Opening Hours: 7AM – 9PM