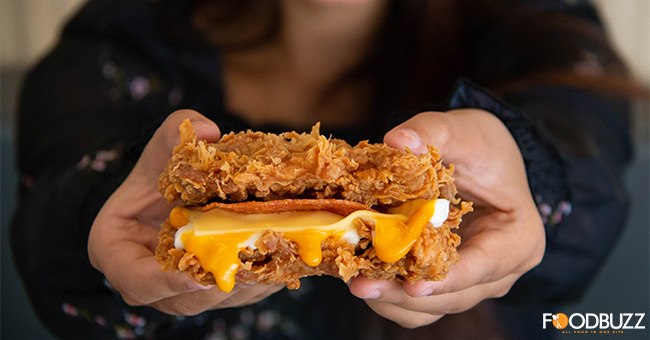 Get ready, guys! We believe that you will head to the nearest KFC branch from today on because KFC has brought their trendy burger to Cambodia. After receiving a lot of loves from worldwide, they have announced that the  ៉Zinger Double Down"  is now available in all outlets. Are you ready to sink your teeth into some meat on meat on meat goodness?
Kentucky Fried Chicken (KFC) is a famous fried chicken restaurant chain opened since 1952 and loved world-wide by fast food lovers. ​And what makes KFC getting more fames in the modern world is the "Zinger Double Down". This bun-less burger launched the first time in 2012 in Singapore and was an immediate hit. Who can resist such a scrumptious meat-full burger? This meat lover's delight has always been our heart.
Wondering what in the world does Zinger Double Down look and taste like? Well, it is a bun-less burger and using two deep fried Zinger chicken fillets instead of your traditional burger bun. Plus, when combined with cheesy cheese slice and sauce, mayonnaise, and chicken strips, the taste is out of this world. The Zinger fillet is a bit peppery and crispy on the outside yet tender and juicy from the inside. From just one bite, you will taste the creamy cheese and sweet mayonnaise.
Zinger Double Down comes in 3 combo sets. Z.D.D Combo for single severing, Z.D.D Box Meal for all the KFC fan and meat lovers out there, and of course the biggest set is Z.D.D Family Combo. What are you waiting for? Come and get your very own Zinger Double Down while it is still available.
Starting Price: Starting from $3.50+ (Price are subjected to differ for different KFC Branches)
Opening Hours:  9:00AM – 9:00PM
Contact: 023 996 000/ 070 896 000
Location: Available at all KFC outlets