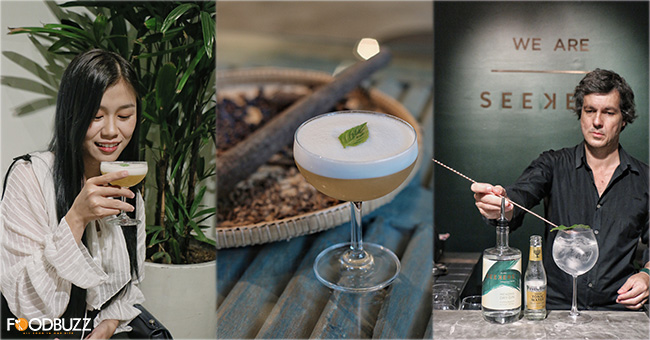 At FoodBuzz, we love hearing the clinking sound of glasses but we also love knowing about how drinks are mixed and crafted and especially the craftsmanship of local breweries and distilleries.
Seekers has been on our radar for quite a while now and today we are thrilled with you our experience at the distillery last weekend. Get your party dress ready!
Seekers Independent Spirits is a craft distillery and creators of Cambodia's first premium gin aka Mekong Dry Gin. Described as "the spirit of Mekong and distill it into bottles", this London style dry gin is an old-style spirit with new-world character.
Talking about the distillation of the gin, Seekers thrives to use the finest of ingredients and let us tell you why.
Using spring water sourced from the mountains of Kampot province in the Southwest of Cambodia, the water goes through several filtration processes while retaining its unique taste and high mineral content. Then with 11 handcrafted native botanicals sourced from the banks of the Mekong River like Lemongrass, Khaffir Lime Leaf, Jasmine, Green Orange, Pandan, Khmer Basil, Pomelo, Galangal, Coriander Seed, Palm Seed and Cassia Bark, a bottle of Mekong Dry Gin is born in the Seekers Independent Spirits distillery and ready for you to pick up and craft it into any drinks of your choice, check out here for some ideas!
With every sip of Mekong Dry Gin, there's no turning back and we, for one, couldn't resist and went for Seekers Gin and Tonic created with the iconic Seekers Mekong Dry Gin, Indian Fevertree and garnished with Khaffir Lime Leaf might sound like your regular Gin & Tonic but gonna leave a long-lasting impression on your taste bud and leave you wanting more. Seekers Star with Seekers Mekong Dry Gin, fresh lime juice, star anise with Kampot Pepper syrup, egg white (first dry shaken and then with ice) and a Khmer basil leaf as garnish is also one not to miss if you a "Seeker" for more fun, playful flavors but still don't want to go without the gin.
You may also pick up a bottle of the Seekers Mekong Dry Gin home, available in three sizes: 700ml, 200ml and 50ml and you can also book a distillery tour where you can sip on your gin and enjoy learning about the distillery and gin at the same time. Sounds like a perfect evening, eh?
Location: Seekers Independent Spirits #80 St. 454 Toul Tompong | Googlemap
Opening Hours: 10AM – 5PM (Closed every Sunday and Monday)