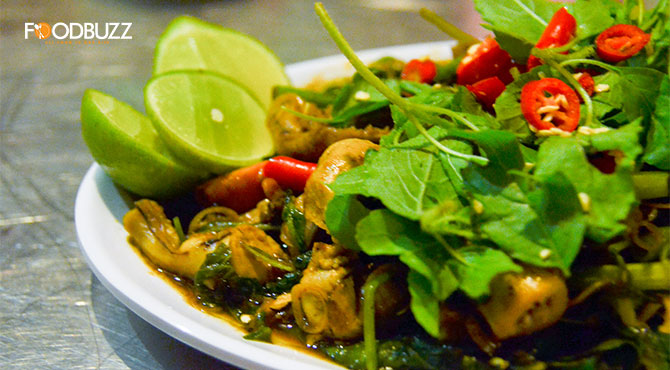 Despite the hot weather, spicy food is a popular food to all Asians as well as in Cambodia, we do love spicy food. Also, is the reason Cha Kdav (the spicy stir-fried) is quite a well-known food eating with rice or as a side dish while you are drinking. Today we come with a well-known place where you can get Cha Kdav in Phnom Penh. If you live near Toul Tom Pong area, there is no way you have never heard of this heaven-on-earth place. It is situated in the north of Toul Tompong market on street 163.
From 5:00 PM to 10:00 PM, this place is packed with customers waiting to get their hand on Cha Kdav. Chicken Cha Kdav (Spicy Chicken Stir-fry) is the most recommended dish there. It is full of chicken meat and is rich with delicious flavor. You can smell the holy basil from across the street.
What makes the place more special is that this place offers you a wide range of meat. Chicken is not the only meat for Cha Kdav. There are also cockle, chicken's feet, pork offals, chicken offals and more. The flavor of these dishes is complex, full of delicious tastes. Just the smell alone will make your mouth water.
In addition, they also have other tasty treats other than Chav Kdav such as the popular Balut that you cannot miss. After a tiring day, you certainly can afford to relax with some baluts along the way.
For a very popular spot like this, it is unbelievable that the price is very reasonable. Nonetheless, this place is. Because with just $1.25 in your pocket, you can enjoy a savory dish here. Next time you are hungry for some Cha Kdav. Don't forget to come here.
Price Range: Starting from $1.25
Opening Hours: 5:00 PM – 10:00 PM​ (Mon-Sun)
Location: North of Toul Tom Poung Market, Street 163, Sangkat Toul Tom Poung I,  Khan Chamkar Mon, ​ Phnom Penh | Googlemap